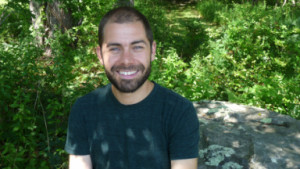 Erik Harris is a certified Qi Gong practitioner, Asian Body Therapist, and energy healer. He has studied under Dr. Ming Wu as an apprentice for five years and has learned Qi Gong, Tai Chi, Chinese herbology , Tui Na and all the facets of Traditional Chinese Medicine during this time. He is certified through the Wu Healing Center. This program has been designed specifically to bring awareness to Chi (life force energy) and the ability it has to transform all aspects of life. Focus is on the body, mind, and spirit connection to show the inherent qualities within all of us that promote self-healing.
Erik holds a B.S. in Psychology from Springfield College in Springfield, MA. He applies what he learned about the mind and body connection to his practice. Erik finds that Qi Gong and Tai Chi allows us to empty our minds by focusing on the energy that flows through us. With the focus on Qi awareness comes to the present moment. In the                                                                                                                                        present moment all things are possible.
Erik holds professional certifications as a Qi Gong Instructor, in Tui Na technique, Medicinal Aromatherapy, Auricular therapy, Reiki, TSR, and Tong Ren Therapy. He also incorporates crystal and stone healing, vibrational healing with singing bowls, crystal bowls, drums, and chanting into his private practice working with clients in individual sessions. He has also learned the art of kung fu tea. With wild organic teas from China and the U.S. He makes tea blends for healing and holds Kung Fu Tea ceremonies. Feeling the Qi from tea is liquid meditation. We sip the tea, feel good, and enjoy life.
His classes introduce a series of gentle standing exercises that focus on allowing energy to flow freely through the meridians of your body. The exercises will be relaxing and energizing at the same time. Students will feel a greater sense of well- being and deeper connection with all of life. Erik has taught at the Center for the Healing Arts at Hartford Family Institute, Yoga Center of Collinsville, the Growing Green Wellness center in Hartford, Jai Yoga in Glastonbury, Vital Life Center in Plainville,  The Inner Space in Avon, Back in Touch Wellness Center in Granby, The Conduit in East Hartford, and Valley Yoga in Simsbury. In 2012 he is now teaching at the Wu Healing Center in West Hartford.
Besides Qi Gong and Tai Chi classes He also leads Qi Gong Essence Meditations and Eastern Fusion classes combining elements of Qi Gong, Yoga, and Meditaion. He provides Introduction to Chinese Healing, Foundational Qi Movement, Healthy Weight Loss Program, and Chinese Medicine for Immunity, as workshops.